Water Conservation
Drinking water is a valuable resource. Taking smart steps to conserve tap water helps to:
keep our environment healthy
reduce stress on water and sewer utility infrastructure
save money on your utility bill
There are many ways you can conserve water around your home.
Reducing your indoor water use can be done by making small adjustments to your everyday routines. Here are a few quick and easy tips for saving water indoors:
keep a pitcher of drinking water in the fridge
consider buying a dual-flush toilet
turn off the tap when shaving or brushing your teeth
shorten your shower by two minutes
don't let the water run when washing dishes
run full loads in the dishwasher
For more tips on conserving water indoors, visit:
Our water use doubles in the summer largely due to lawn watering, power-washing and other outdoor use. Here are a few quick and easy tips for saving water outdoors:
water your lawn early in the morning
water the lawn, not the pavement
use a broom instead of a hose
install a shut-off nozzle on your hose
choose plants that love dry heat
install a rain-barrel near your vegetable beds
For more tips on conserving water outside, visit:
Residential Watering Regulations
Stage 1 seasonal watering regulations are in effect May 1 to October 15. Watering is allowed during certain times:
Residential lawns
Even addresses: Wednesdays and Saturdays, 4–9 a.m.
Odd addresses: Thursdays and Sundays, 4–9 a.m.
Trees, shrubs and flowers
Sprinklers::  4–9 a.m., any day
Hand watering, soaker hose or drip irrigation: anytime
Vegetable gardens
More information on Metro Vancouver's Drinking Water Conservation Plan
Lawn Care
Did you know that by planning ahead and preparing healthy soil, choosing low-maintenance grasses, and adapting your watering routine, you can have a healthy lawn using less water?
Plan your lawn care routine! From applying lime to aerating to mowing, know what lawn care activities you need to do this spring, summer, fall and winter!
One of the most plentiful sources of water we have comes directly from the sky. Rain barrels provide an excellent method of capturing rain for irrigation purposes and helping you conserve water.
Low-cost rain barrels may be available at a series of one-day truckload sale events in Metro Vancouver in the spring.                         
Local home and garden retailers also sell rain barrels in a variety of shapes and styles (prices vary).
Rain barrel features:
55-gallon barrel (200 litres)
34" high by 24" wide
insect resistant mesh on lid
overflow hose
childproof lid
easy installation & maintenance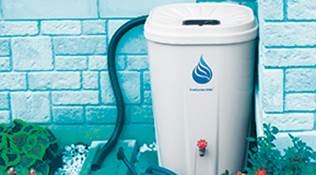 High-efficiency appliance rebate
High-efficiency clothes washer rebate
West Vancouver participates in BC Hydro's High-Efficiency Appliance Rebate program by offering a rebate for qualifying appliances.
Rebates are available on eligible Energy Star clothes washers purchased between April 5 and May 31, 2019.
Visit BC Hydro Powersmart to apply for the rebate and use the search tool to find qualifying models.
Rebates are courtesy of BC Hydro, Fortis BC and the District of West Vancouver. Appliance rebate campaigns usually take place during the spring (May) and fall (October).
High-efficiency toilets
West Vancouver has phased out the high-efficiency toilet rebate program in January 2015.
The toilet rebate is replaced by a new high-efficiency clothes washer rebate that is jointly supported by BC Hydro and West Vancouver.
Why did we phase out the toilet rebate program?
The BC Building Code was revised in 2011 to require High-Efficiency Toilets (HET) (4.8L per flush or less) or dual flush toilets to be used any time a new toilet is installed in a residential setting. Now, many toilet models are high-efficiency. This makes it easy for people to choose more efficient models.