Small World is comprised of two monolithic western red cedar creatures born from urban salvage slated for redevelopment in Deep Cove and Horseshoe Bay.
The two sculptures are nicknamed Mama and Baby, as they mirror the dynamic of parents bringing their children to the West Vancouver Community Centre, keeping an eye as they socialize. Their uncanny silhouettes stand tall, creating a focal point for community interaction both interpersonally and with nature.
Funded by Enhance West Van through a donation from the Lalji family, the project was realized through a partnership between Enhance West Van and the District's Public Art Advisory Committee.
 
Artist: Brent Comber
Created: 2022
Location: Great Lawn at West Vancouver Community Centre, 2121 Marine Drive
Preparing Mama and Baby for installation  
Meet Baby, our latest public art piece that will be accompanied by a larger version—affectionately called his Mama—outside the West Vancouver Community Centre this summer.
In the photo above, North Shore artist Brent Comber is creating the large-scale artwork—Baby will be nine feet tall and Mama will be a towering 15 feet tall. When the pieces are complete, they will be moved from his studio to the community centre's south lawn.
While creating the pieces, Comber explored themes of the West Coast that connect people to our unique setting and history. The materials were sustainably sourced from the local area and milled at his oceanfront studio, including the Western red cedar tree trunks he collected from Horseshoe Bay and Deep Cove.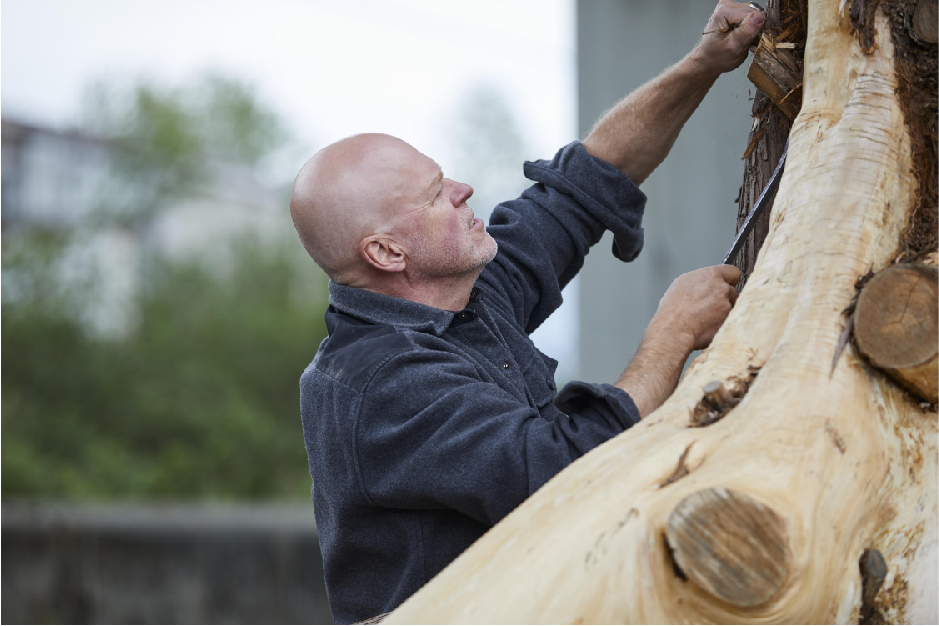 "Wood has a humanistic quality and I think that's why people connect to it. For me, it's about place—it's about geography, it's about climate, and it's about the experience of living here," said Comber. "For the creation of Small World, I used wood in a scale that it still looks like it's part of the forest. This large-scale artwork is natural, playful, and interactive."
Small World was commissioned by the District of West Vancouver's Public Arts Advisory Committee and Enhance West Van.
Comber initially began working with wood as a garden designer in the early 1990s, creating pieces to compliment his Pacific Rim-inspired gardens. Using solid pieces of wood, he found a new take on design that truly integrated with the landscape.
It is his interpretation of the natural world that drives him to create sculpted objects, functional pieces, and designed environments that reflect the stories surrounding him.
He has shown his work internationally in Paris, France, Japan, Bora Bora, and other locations. Locally, he has public artwork on the North Shore, including his seven "Drum" sculptures, made from reclaimed Western red cedar, that are used as seating inside the community centre.