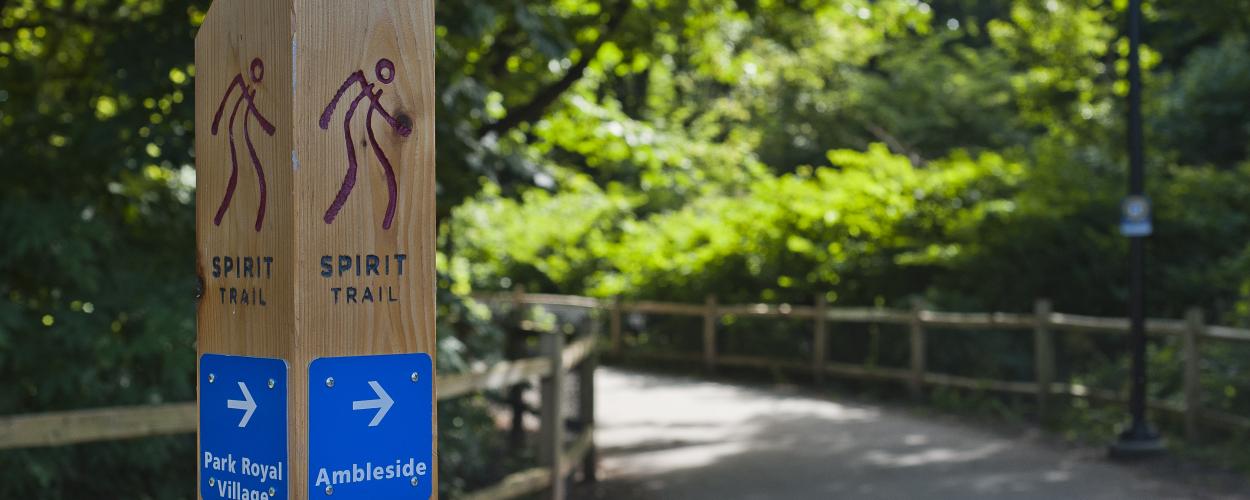 The Spirit Trail is a collaboration between the three North Shore municipalities, the Tseil-Waututh and Squamish Nations, and the Federal and Provincial Governments.
Trail Core Values
Multi-use – Encouraging all ages, all abilities and all modes of self-propelled transport, including wheeled mobility aids.
Safety – Instilling a sense of security and well-being.
Connectivity – Building a continuous recreational and transportation link from Horseshoe Bay to North Vancouver.
Sustainability – Promoting a healthy lifestyle and reducing our carbon footprint.
Community – Creating a vibrant backbone through community and fostering a sense of civic
Funding
Funding for the Spirit Trail has come from the following sources, as well as from private sponsorships and donations:
$2 million from the Provincial Local Motion program, including $490,503 in Provincial and Federal funding  for the construction of a 1.4-km paved trail connection between Park Royal Shopping Mall, the Lions Gate Bridge and the District of North Vancouver
$700,000 from TransLink
$500,000 from Park Royal Shopping Centre
Donations
Donations to the Spirit Trail have led to the following enhancements:
Squamish Nation gateway and artwork at Taylor Way and Capilano River Bridge to Park Royal
Park Royal gateway and entry features
Capilano River interpretive vista
Ambleside Pond bird sanctuary interpretive signage
Navvy Jack Point improvements on the Seawalk
Dundarave Park informative map board
Altamont Beach Park rest stop
Map board kiosk for Phase 1 at 31st Street & Marine Drive
Opportunities to Donate
If you would like to donate to the Spirit Trail, there are a number of options available to you, including:
Displays of public art and sculptures along the greenway
A community information kiosk at the foot of 14th Street
Greenway signage and wayfinding
Trail lighting Bike parking racks
Drinking fountains
Water features
Special feature areas (rest stops, and plazas)
Interpretive displays for heritage, ecology, and cultural information
Questions?
Please contact us for more information: 604-925-7020