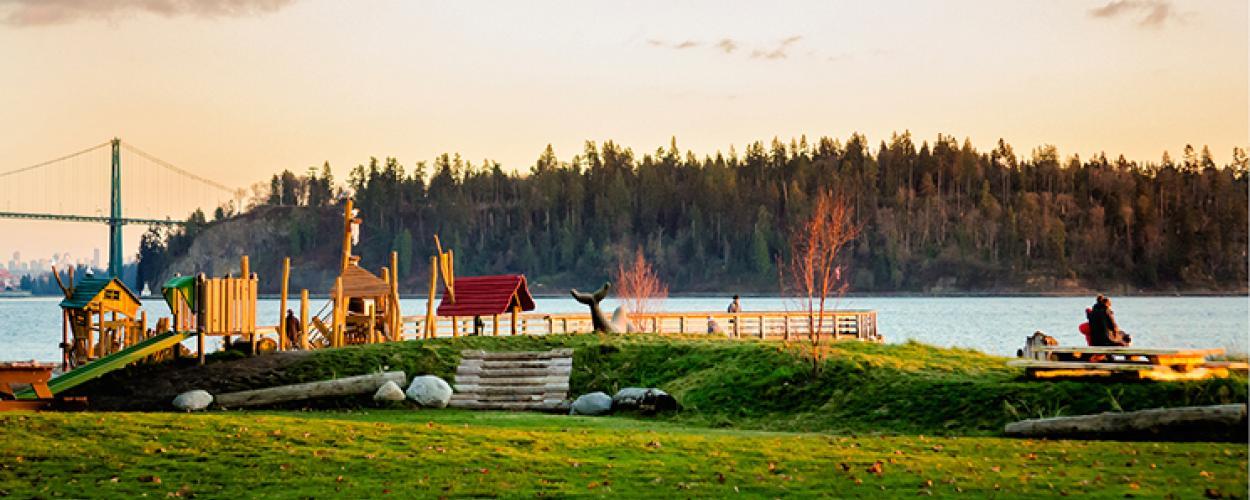 What's Popular?
John Lawson Park is an icon of West Vancouver history and heritage: in 1872, Navvy Jack Thomas, West Vancouver's first non-native resident, built his home here. In 1905, John Lawson, the "father" of West Vancouver, settled in the same home with his family. Today, the park is a favourite spot for picnickers, swimmers and families. See for yourself why this been a West Vancouver hotspot for almost 150 years.
Things to do in the Park
Playing 
With a new splash park and playground, your kids will love spending a day outdoors in West Vancouver's newest play area. The playground includes a whimsically updated pirate ship, modern playground equipment and walkways in and around the playground.
Swimming
John Lawson Park is a great place to cool down during the hot summer months.
Splash Pad
The splash pad (water fountain play area) is open 10 a.m. to 7 p.m. daily. Hours may change during favourable or inclement weather.
Picnics
West Vancouver's parks are a great place for a picnic. Picnic shelters cannot be booked or cordoned off – they are for everyone to enjoy!
Before you pack your picnic, be sure to read the Picnic Guidelines and check for current swimming and barbecue restrictions as they may change. 
The Pier
The pier at John Lawson Park has long been a favourite spot for boat watchers and sunset gazers. 
Walking & Hiking
John Lawson Park is the mid-point of the Seawalk, and a lovely place for a waterfront stroll.
Parking
A parking lot and street-side parking are available. Public parking at the park is limited and fills up quickly in good weather. Parking lots will be closed when full. Please have an alternate plan and follow the instructions of traffic control personnel.
Washrooms
Washrooms are open year-round from 6 a.m. to 10 p.m. 
Dogs in Parks
No dogs are allowed in John Lawson Park.
Check out Dogs in Parks for information on off-leash areas, licensing and more.