To learn more about closures and our response to COVID-19, and for updates on District operations, visit westvancouver.ca/covid.
Sign Permits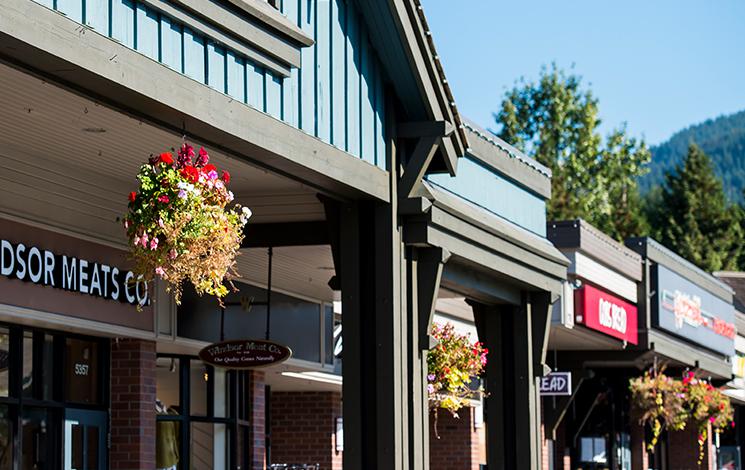 If you plan to put up a sign to advertise your business, or alter an existing sign, you'll need a permit. You need a business licence before you can apply for a sign permit.
Before you apply, it's a good idea to familiarize yourself with the Sign Bylaw to understand what is and is not permitted. If it's not mentioned in the bylaw, it's not permitted.
To apply, you'll need to provide a completed application form and include the following:
exact wording proposed
a scale drawing showing:

size of sign (height & width)
dimension of lettering (height & width), depth
sign colors and materials
width and height of store facade

location of sign on building and method of attachment (for new canopies and awnings additional drawings)
Documents
Sign Permit Application Form
Sign Bylaw
Temporary Sign Permit Application Form (for non-profit organizations)
Fees
New conforming sign: $125
Change existing conforming sign: $80
Guidelines for permitted signs
Facia Signs
Awnings & Suspended Signs
Freestanding, Projecting & Signs on Exterior Wall Projections
Types of signs that are not permitted
sandwich boards
temporary freestanding signs
second storey facia, awning and canopy signs
banners, balloons and bunting
inflatable devices
revolving, animated, flashing or moving signs
Contact
Permits & Inspections Department
Federal election signs
The District does not issue sign permits or take in deposits for Provincial and Federal election signs.

Election signs are only permitted on public boulevards that are located directly adjacent to roadways. The following restrictions apply to election signs placed on public boulevards:
if placed in front of a private residence, the permission of the owner of the residence is required
cannot be placed across any street or public thoroughfare
cannot be placed on any bridge or overpass structure
cannot be placed on or over any curb, sidewalk, post, pole, or hydrant
cannot be placed on any traffic control device
cannot be placed on any street, place or location sign
cannot be placed in any District owned or maintained tree well
The following guidelines govern the general placement of election signs. Election signs cannot be placed:
in a location that may create a safety hazard for pedestrians or vehicles
where they will obstruct or impact visibility or impede or interfere with vehicle or pedestrian traffic
in municipal parks including on any tree, post, pole, building, structure or thing in or on any park
in or in front of District flower or shrub beds
on utility poles
in any other location as to interfere with or cause confusion with the movement of traffic
in contravention of Ministry of Transportation and Infrastructure requirements