About the Archives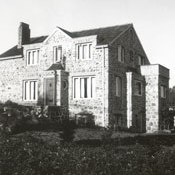 The West Vancouver Archives is part of the District of West Vancouver's records and information management program, in the Legislative Services department.
Government records
We preserve government records in order to meet the District's legal and administrative requirements; to promote the transparency and accountability of government; and to provide historical evidence of the relationship of the municipal government to the community, the environment, and many issues of public importance.
Community records
The Archives' holdings also include records donated by the community, such as historical photographs, diaries, newspapers, maps and plans, correspondence, and manuscripts that document the social life and development of West Vancouver.