Electric Vehicles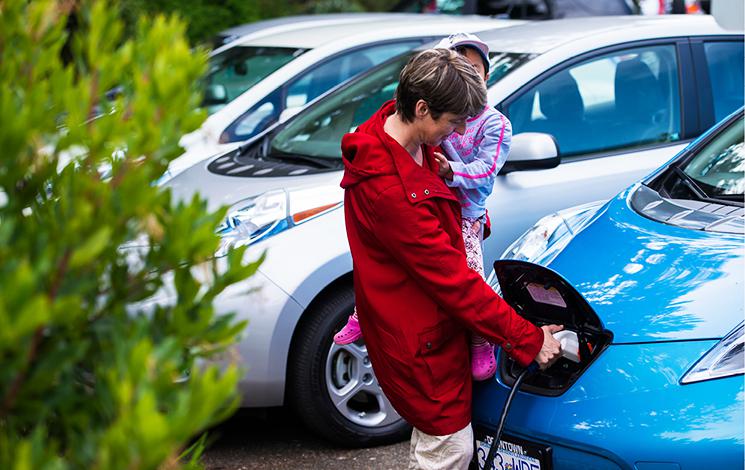 An electric vehicle (EV) runs at least partially on electricity. Unlike conventional vehicles that use a gasoline or diesel-powered engine, electric cars and trucks use an electric motor powered by electricity from batteries or a fuel cell. Not all electric vehicles (or EVs) work the same way.
Charging at municipal facilities
Electric vehicle charging stations are available at these municipal facilities:
West Vancouver Community Centre, 2121 Marine Drive
Gleneagles Community Centre, 6262 Marine Drive
Each location has two vehicle charging spots. 
Note: the charging stations at Municipal Hall (750 17th Street) will be removed from late April–December 2021 to accommodate construction at Municipal Hall. 
Charging is free and available by borrowing a card from the reception desk in each building during operating hours or by downloading the FLO network app on your smartphone (a $15 setup charge will apply).
There is a two-hour parking limit for charging to facilitate turnover.
Charging Station in Horseshoe Bay
In support of clean transportation, BC Hydro installed one electric vehicle charging station in May 2018 to make it easier and more convenient for residents and visitors to use electric vehicles.
Charging at this station should take approximately 10 to 30 minutes. There is a one-hour parking limit for charging to facilitate turnover.
This station may be used as a refuelling service only and not a short- or long-term parking option.
What you need to know about charging Electric Vehicles
There is a map of public charging stations (with current availability) at Plugshare.com
Check out the Vancouver Electric Vehicle Association's website for more information about electric vehicles