Welch Street Bridge improvements
Pedestrian and cycling improvements are coming soon to Welch Street Bridge near Park Royal South. The bridge provides a vital link to the North Shore Spirit Trail and the work is being done through a tri-party partnership created in 2009.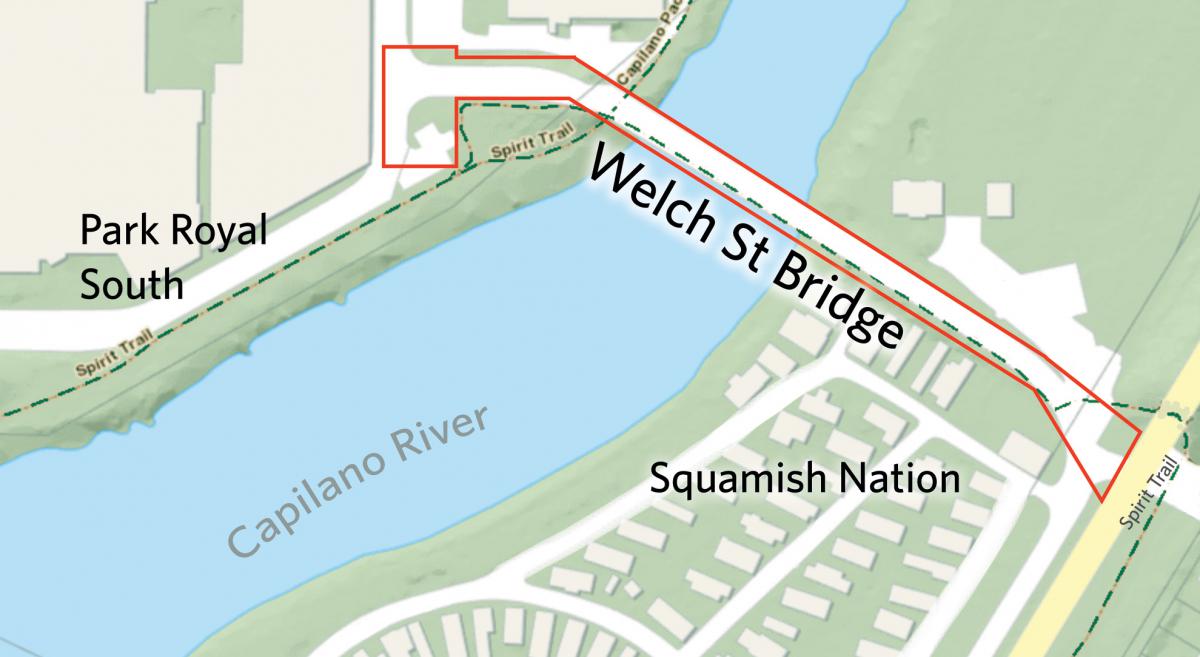 UPDATE August 23: This project is expected to be substantially completed by late October. 
As part of the work, a new multi-use path with separation from vehicle traffic will be constructed to accommodate pedestrians, cyclists, and people who use wheelchairs. The improvements will also include new lighting, bridge deck resurfacing, reconfiguration to the east and west intersection approaches to the bridge to include additional lanes and improvements to the pedestrian and bike crossings, and updated stairway access to the Capilano River for use by Squamish Nation members.
The bridge is on Squamish Nation land and spans the Capilano River, connecting Park Royal Shopping Centre with Bridge Road. It was constructed in the 1970s and, in recent years, is being used by significantly more pedestrians and cyclists, in addition to vehicle traffic. The route connects North Vancouver and the Squamish Nation to Ambleside and the rest of the North Shore Spirit Trail.
Along with Squamish Nation Council's leadership and approval, the improvements enhance West Vancouver Council's Strategic Goal to improve mobility and reduce congestion by diversifying, expanding, and improving the safety and appeal of active transportation, such as cycling and walking.
The work is being done as a partnership between Park Royal, the District of West Vancouver, and the Squamish Nation. It is being completed and funded by Park Royal, supported by a financial contribution from the District of West Vancouver.
Traffic impacts during construction
Access for pedestrians and cyclists will be maintained via a temporary pedestrian/cycling pathway. Pedestrian access could be impacted late in the project, but cycling will be accommodated.