Capilano Pacific Trail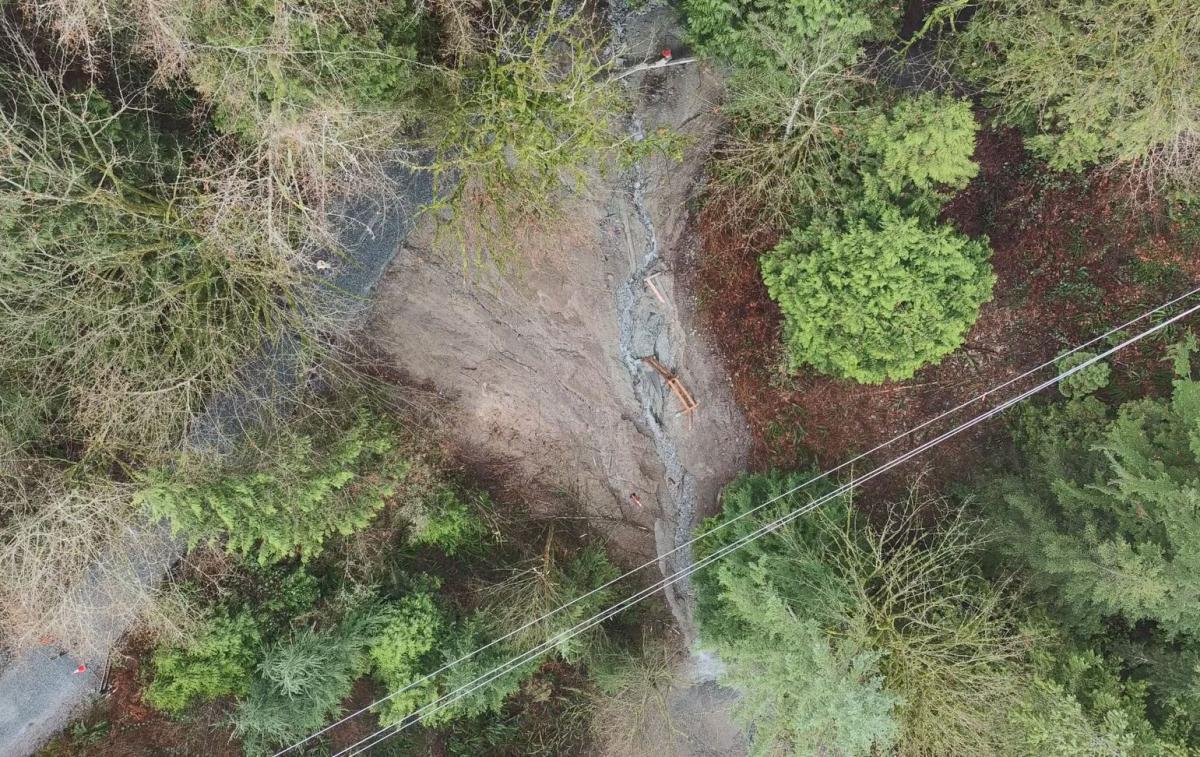 Trail Closed
The Capilano Pacific Trail is closed due to a landslide. Please use the detour.
For your own safety, it is essential not to go past the safety fencing meant to keep people out of the unstable area. The area is susceptible to further slides, and in the event of an emergency situation, first responders will not be able to access this site. Please respect the safety fencing and stay away from this area.
July 2022 update
Updated July 26, 2022
The District recently conducted a Trail Restoration Feasibility Study and determined that the slope instability prevents reinstating the trail on the original alignment. Therefore, Council decommissioned the old trail and sewer alignment and directed staff to replace the existing temporary fencing with permanent fencing.
Staff proposed a new alignment for both the sewer and the trail. The budget for the sewer replacement is in place through the utility fund. Council also directed staff to build a new trail following the same alignment and fund it through the Community Serving Community Amenity Contributions fund.
Background
The Capilano Pacific Trail goes from Ambleside Park and follows a path along the river until signs direct you up to Keith Road. The trail used to continue on through the Capilano River Regional Park to the Fish Hatchery, Cleveland Dam and Capilano Lake, but that is no longer accessible from West Vancouver as a result of a landslide. The landslide occurred on January 6, 2021, in the area of Moyne Drive, and removed a section of the trail entirely as well as the sanitary sewer line that ran beneath it. 
Late in the evening of January 12, another, smaller slide occurred in the same area. Fortunately, there were no injuries and no residential properties at risk.
The landslide caused the failure of a section of the trail and also put the sewer infrastructure underneath the trail at risk. The sewer pipe was exposed and left suspended in the air. District crews, working in safety harnesses on the unstable slope, secured the sewer line and were successful in preventing any spillage into Capilano River. A gravity sewer line has temporarily replaced the line damaged by the landslide.
Subsequent heavy rain and strong winds caused the second slide, resulting in further erosion and several trees were seen sliding down the slope towards the sewer line. Several hazardous trees had to be removed or topped to improve the safety of the site.
The extreme rainfall events of November and December 2021 have resulted in increased hazards in this area. Additional slope movement and erosion in the fenced-off area have occurred, making this area even more susceptible to further slides.
A smaller landslide occurred at the same location in December 2019, and the trail had been repaired. The cause of the landslide was determined not to be related to the recent repair but is part of a larger slope instability that is now taking place.