Marine Drive, 2290 (Cressey Development)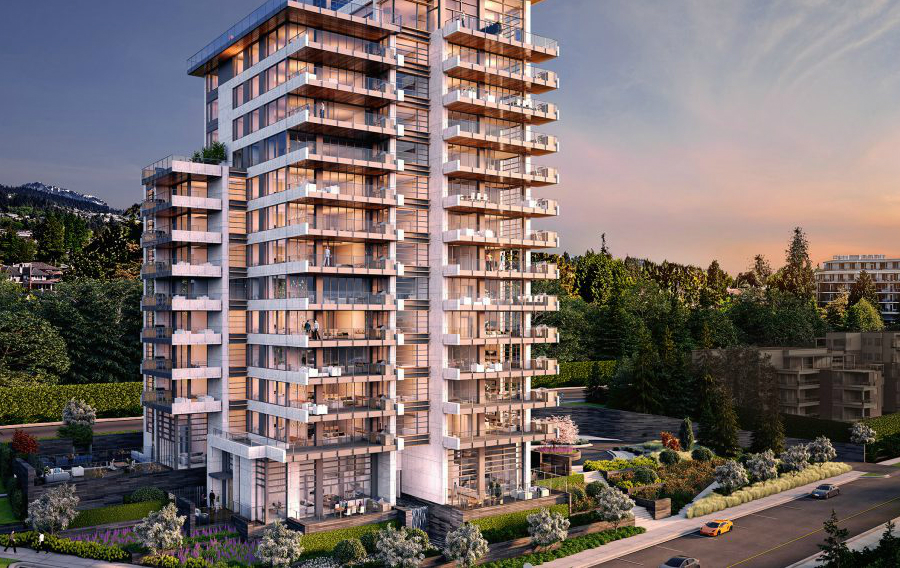 Foundation construction is underway through Fall 2018.
Current traffic impacts:
2200 block of Bellevue Avenue: eastbound road closure (detour to Marine Drive)
Thank you for your patience
Thank you for your patience while staff work closely with the contractor to manage parking, traffic flow and construction activities. District staff visit the site regularly and stay in contact with the site superintendent to address issues and neighbourhood concerns as they arise.
Construction work is scheduled Monday to Friday between 7:30 a.m.–5:30 p.m. and Saturday from 8 a.m. to 5 p.m. in accordance with District bylaws. Work will not take place on Sundays or statutory holidays.
Foundation construction is underway through Fall 2018. An increased presence of large cement trucks is anticipated throughout this phase. The site has been approved for a noise variance to accommodate a limited number of large pours, allowing the site to operate until 8 p.m. on days where concrete pours are scheduled so the surface can be finished. 
Construction of the structure will begin after construction of the foundation is complete. While the structure is being built you will notice an increase in construction crews and machinery on site and a likely increase to general construction noise in the area.
Bellevue Avenue, 2200 block: eastbound road closure for the duration of the project through fall 2019 (detour to Marine Drive). Parking spaces will be relocated to the east side of 23rd Street and available for public use during construction.
Traffic control personnel will be onsite to assist with vehicle and pedestrian flow.
Additional signage, line painting and channel markings have been completed to enhance traffic safety around the construction site.
Parking for construction workers:
An approved Traffic Management Plan designates parking outside an established parking radius within the residential area for contractors, their staff and subcontractors. An exception to this allows construction vehicles to park on the east side of 23rd Street adjacent to the development, as the District has issued a street occupancy permit paid for by the developer for use of this space.
Parking restrictions are enforced by bylaw officers. Report concerns related to parking and enforcement by calling Bylaw & Licensing Services: 604-925-7152.
Development application and related documents
January 2016 documents and update:
Following direction from Council in July 2015 to make revisions to their proposal, particularly relating to requested variances to the Zoning Bylaw, the applicant has now revised their proposal. Council will consider the proposed Development Permit, with variances, at the January 25, 2016 Council Meeting. Details are below:
Council Report: Development Permit Application No. 14-055, Temporary Use Permit No. 15-088, and Temporary Real Estate Signage Proposal for 2290 Marine Drive
Proposed Development Permit (including Schedule A)
Schedule B : Proposed development drawing booklet 
Schedule C: Proposed temporary sales centre drawing booklet
Proposed Temporary Use Permit (including Schedule A)
Schedule B: Proposed temporary sales centre drawing booklet
Schedule C: Excerpts from proposed Development Permit relating to final site plan, grading, and landscaping (e.g. restoration after removal)
Notice of Public Consultation - January 25, 2016
July 2015 documents and update:
Consideration of proposed Development Permit at the July 27, 2015 Council Meeting. Prior to Council considering the application, the applicant will be hosted a public information session on July 22, 2015. 
Notice of Public Consideration: Proposed Development Permit No. 14-055 for 2290 Marine Drive
Council Report: Development Permit Application No. 14-055 for 2290 Marine Drive
Drawing booklet–proposed development
Drawing booklet–temporary sales centre
January 2015 documents and update:
The proposal was reviewed by the Design Review Committee (DRC) on December 11, 2014 and the Committee recommended that the proposal be supported subject to further review of certain items by staff.
Staff have instructed the applicant to notify neighbours of the application and to hold an open house so that nearby residents can learn about the proposal, ask questions, and provide their feedback prior to the application being formally considered by Council. An open house was hosted on January 22, 2014. 
Applicant's open house invitation
Staff from the Planning Department will be in attendance to observe and answer any questions from residents regarding process, etc.
December 2014 update:
Cressey Development has applied for a Development Permit for this RM2 (apartment) zoned site. The proposal calls for a 15-storey tower of maximum 54.8 m (179.9 ft) height, with a portion of the mass being at 10-storeys. The existing zoning allows for a 20-storey tower of 54.9 m (180 ft). The proposed FAR of 1.75 would be consistent with the permitted FAR of the RM2 zone. The tower would include 35 residential units and 80 parking stalls. The existing building on the site has 47 residential units and 28 parking stalls. The proposal would preserve the significant stand of trees at the corner of Marine & 23rd, would result in a net increase of 1 on-street parking spot, and would include several townhouse-style units for street presence.
After staff review and refinement of the proposal, the project will be reviewed by the Design Review Committee at its meeting on Thursday, December 11, 2014.  As this is a Development Permit only, no bylaws or formal public hearings are required,  however there will be an opportunity for public consultation and comment on the proposed design.