1591 Haywood Avenue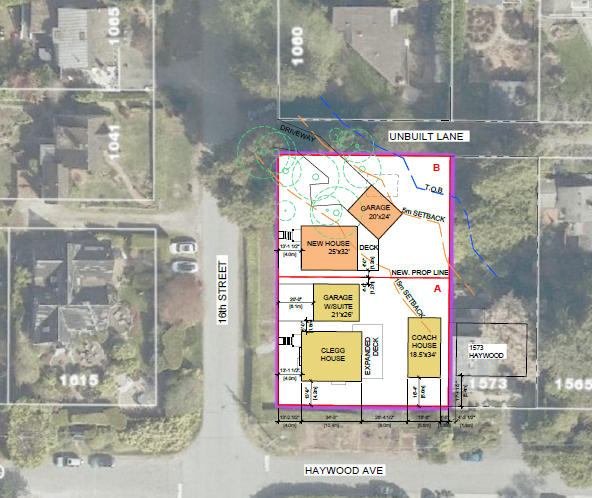 The District has received a preliminary development proposal for the development of 1591 Haywood Avenue through a Heritage Revitalization Agreement. The proposal includes:
Subdividing the property into two-fee simple lots facing 16th Street.
 
On the proposed southern lot (Lot A):

relocating the Clegg House to a new foundation southwest of the current location and adding a stratified secondary suite on the lower level
adding a garage with vehicle access from 16th Street with a stratified secondary suite above
adding a stratified coach house facing Haywood Avenue

On the proposed northern lot (Lot B):

adding a detached dwelling unit
demolishing the existing garage and adding a new garage

Floor Area Ratio (FAR) of 0.66 for Lot A and 0.31 for Lot B, for a total FAR of 0.49 for Lot A and B combined, as incentive for the conservation and legal protection of the Clegg House. A Heritage Designation Bylaw would be considered in tandem with the HRA bylaw, and would provide for the ongoing legal protection of the heritage resource.
This proposal has not been formally submitted and is still within the preliminary development application stage. Once submitted as a formal Heritage Revitalization Agreement application, the District will process the development application in compliance with the Development Procedures Bylaw that requires public notification and consultation. All Heritage Revitalization Agreement applications must be approved by Council.
Preliminary Submission Package
The applicant is hosting a virtual preliminary public information meeting on January 25, 2022, from 4 to 5 p.m., to provide information about the proposal, answer questions, and seek public input. For information on how to join the meeting please see the meeting notice below. 
Note: This is not District-led public consultation, it is being hosted by the applicant.