Evelyn by Onni Neighbourhood
Evelyn by Onni is a Master Planned residential community located at the base of Sentinel Hill. The 21-acre site is located at the eastern gateway to West Vancouver next to Taylor Way and is comprised of 350 units including single and duplex dwellings, and terraced cluster and apartment buildings. Development in the neighbourhood is guided by the Master Plan, which sets out the overall land uses and density for the site. As of March 2021, approximately 60% of the units are completed or are under construction.
Browse the Lots within the Evelyn neighbourhood in the tabs below.
Lot 1, known as "Cliffside One" is developed with a 12-unit terraced cluster building completed in 2013.
Lot 2 (918 & 908 Keith Road)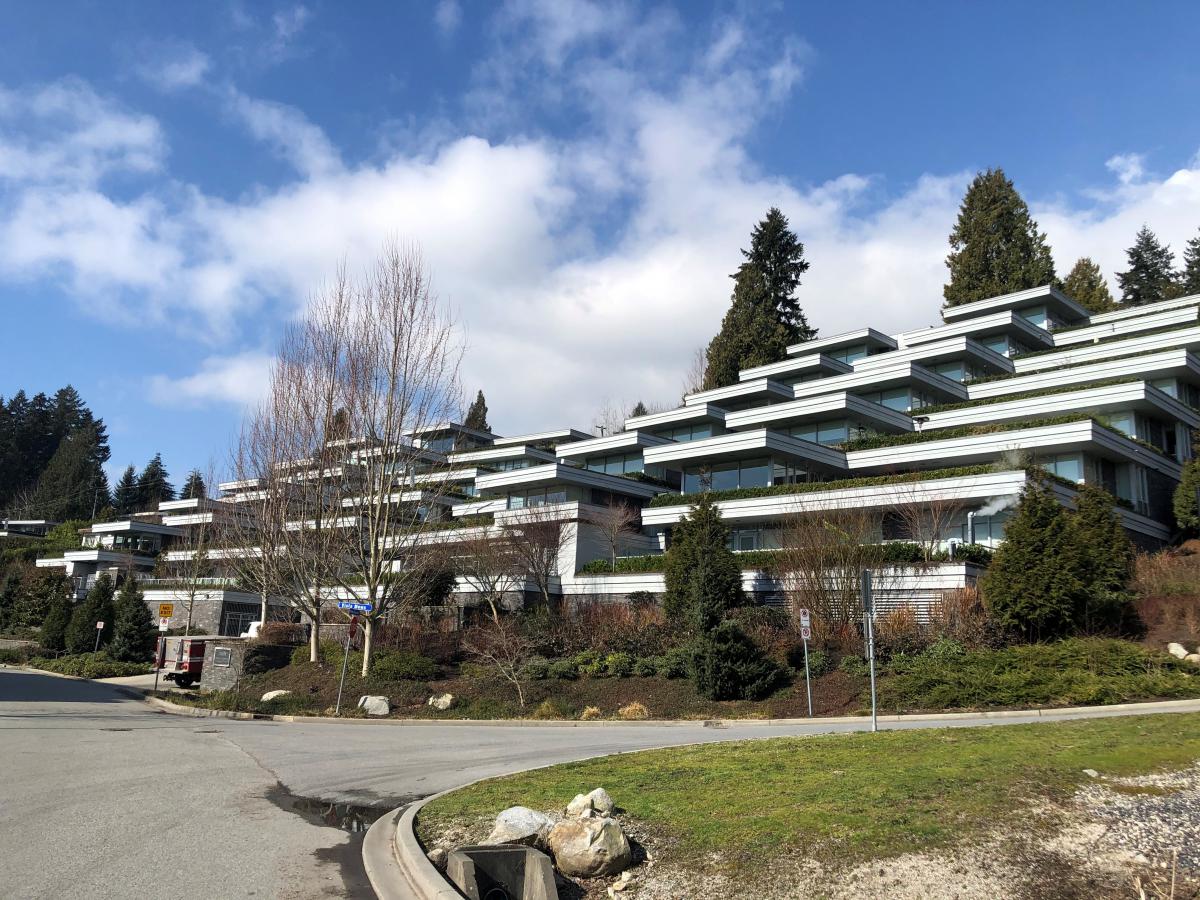 Lot 2, known as "Cliffside Two" and "Cliffside Three" is developed with a 26-unit terraced cluster building completed in 2014.
Lot 3 (876 & 870 Keith Road)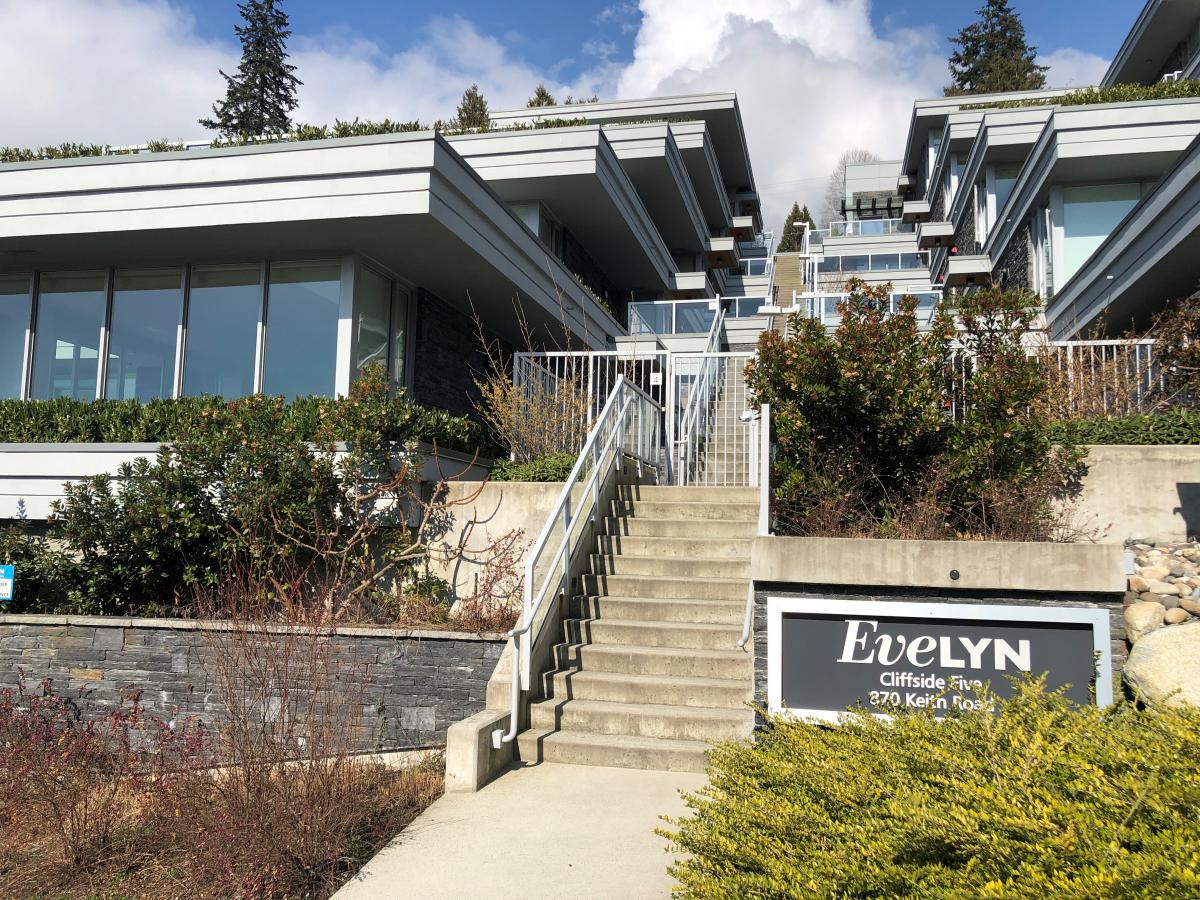 Lot 3, known as "Cliffside Four" and "Cliffside Five" is developed with a 23-unit terraced cluster building completed in 2016.
On June 2, 2014 Council approved the rezoning and development permit application for Parcel 3 within the Evelyn by Onni project.  The rezoning approved the transfer of density (units and floor area) to Parcel 3 from elsewhere on the site.  The rezoning did not result in a net increase in density on the Evelyn lands.  The development permit deals with the design details of the building for the site.
Approved Rezoning Bylaw No. 4788
Summary of the Review Process & Timelines
Feb 17, 2014 staff presentation 
Public Information Meeting - January 15, 2014
Notice of Public Information Meeting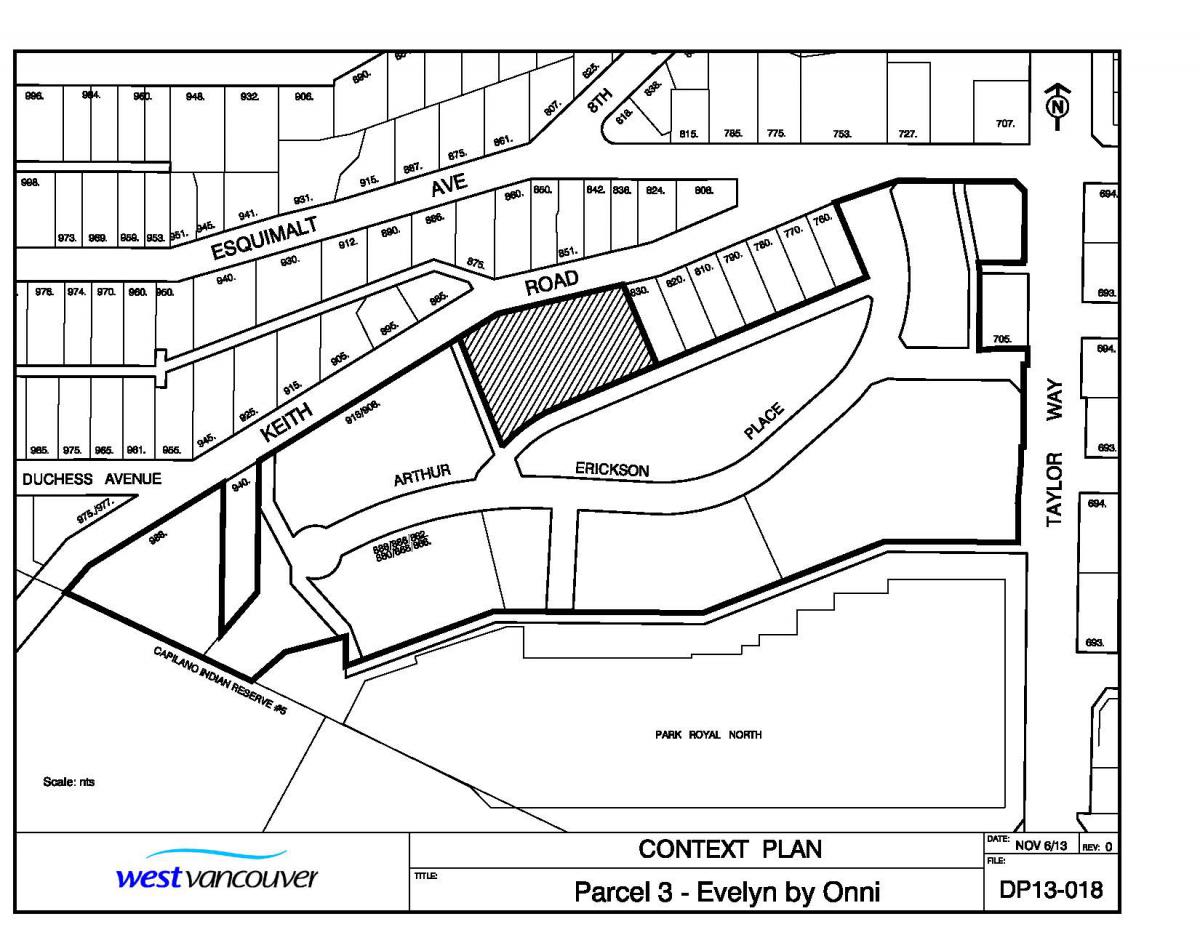 THE PROPOSAL
Applicant's presentation to DRC
Staff Reports
December 2 Staff Presentation to Council
Lot 4 was dedicated to the District as a Park during the original rezoning of the site.
Lot 5 (866, 868, 882, 886, 888 & 880 Arthur Erickson Place)
Lot 5, known as "Forest Edge One" and "Forest Edge Two" is a 71-unit apartment building that was completed in 2015.
Lot 6 (790, 792, 794 & 796 Arthur Erickson Place)
On March 11, 2019 Council approved the rezoning for Lot 6 to allow for four townhouses (to be attached to the apartment building on Lot 7) and relocation of Evelyn Walk.
Lot 7 (768, 770, 772, 774, 776 & 788 Arthur Erickson Place)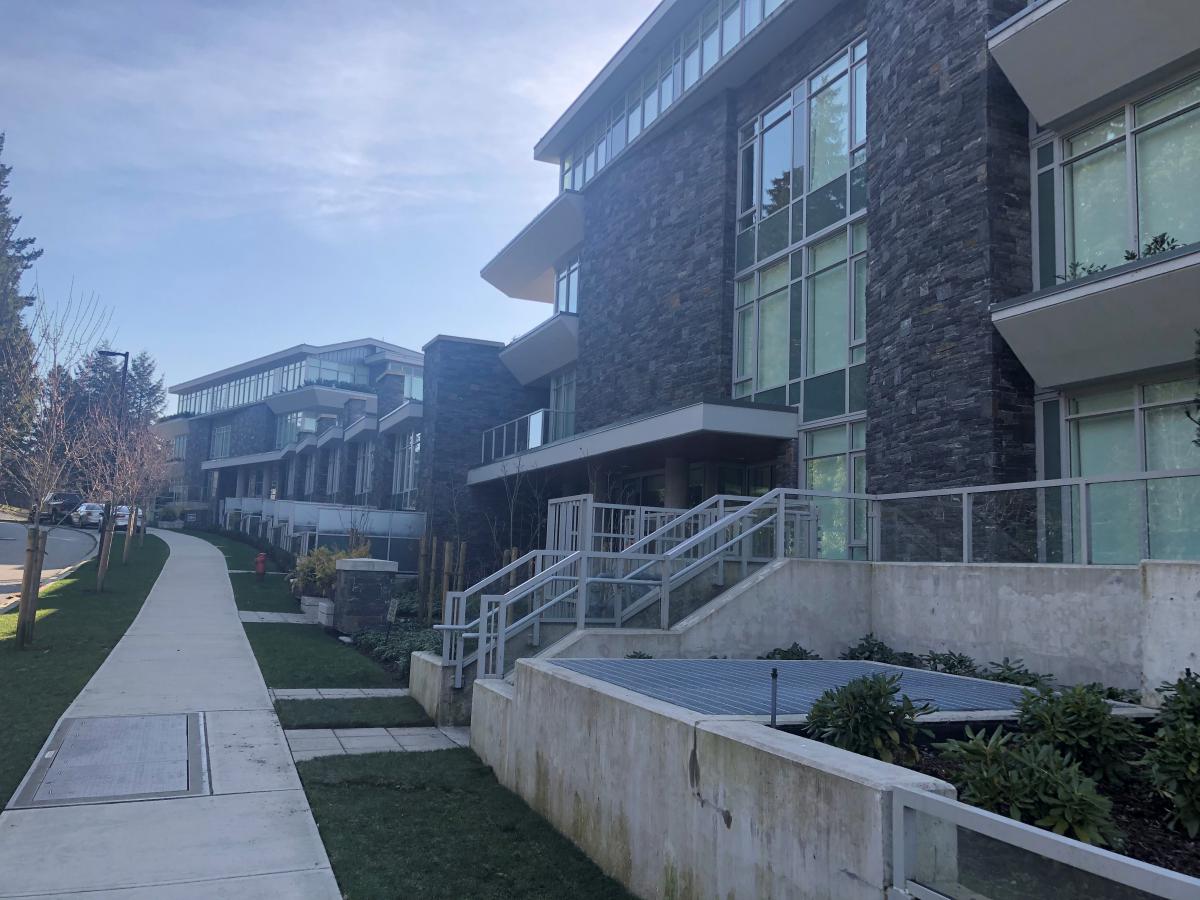 Lot 7, known as "Forest Edge Three" and "Forest Edge Four" is a 67-unit apartment building completed in 2019.
February 2016
Council considered the proposed development permit at its November 30, 2015 meeting and approved the application.
November 2015
Onni has submitted an application to renew a Development Permit for Parcel 7. The proposal is for a 67-unit apartment building of 8-storeys (terraced down the hill), approximately 89,700 square feet in area, and 132 parking spaces within the underground parkade.
Prior to Council considerting the development permit, Onni will be hosting a Development Application Information Meeting on Thursday, November 19, 2015 from 6 p.m. to 8 p.m. The meeting will be held at the Onni Presentation Centre located at 710 Keith Road, West Vancouver.
Council is scheduled to consider the development permit at its meeting on Monday, November 30, 2015 at 6 p.m. in Council Chamber at Municipal Hall, located at 750 17th Street, West Vancouver.
Staff Report to Design Review Committee
Lot 8 (No addresses assigned)
Lot 8 is located at Arthur Erickson Place and Evelyn Drive, adjacent to Taylor Way. It is the last future apartment development parcel remaining at the site. The Master Plan calls for a 119-unit apartment building, including 30 rental apartments. 
September 2021
The development proposal to increase the amount of rental units to Lot 8 was considered by the Design Review Committee (DRC) on July 15, 2021, and the North Shore Accessibility Committee on Disability Issues (ACDI) on September 9, 2021. The applicant is working on responses to the Committee's recommendations for staff review.
A date for Council consideration of the proposal has not been determined at this time.
March 2020
An application to add 106 rental units to Lot 8 has been received. Lot 8 is approved for an apartment building containing 119 units (89 condos and 30 secured rental units). The total proposed units is 225 (89 condos, 16 non-market rental units, and 120 market rental units). The application is currently under staff review. 
The applicant hosted a public information meeting on its preliminary proposal on November 19, 2019. Note: This was not District consultation, it was a development-sponsored meeting.
The development proposal will eventually be considered by Council. Accordingly, there will be opportunities for further public input as the proposal advances.
Lot 9 (No addresses assigned)
Lot 9 is located in the centre of the development site and is approved for 8 single family dwellings and 8 duplex units (total of 16 units). A development permit application for this site has not been received at this time.
Lot 10 (568, 572, 576, 580, 584, 588, 592 & 598 Arthur Erickson Place)
Lot 10 received approval by Council for a development permit to construct eight single family dwellings on the lot. As of spring 2021, the first two dwellings have been completed. 
On May 1, 2017, Council approved a development permit that will permit the construction of eight single family dwellings on Lot 10 of the Evelyn by Onni site.
Lot 11 is a future development parcel that is approved for four duplex units. It is the present site of the Onni Presentation Centre.
Village Walk & Evelyn Walk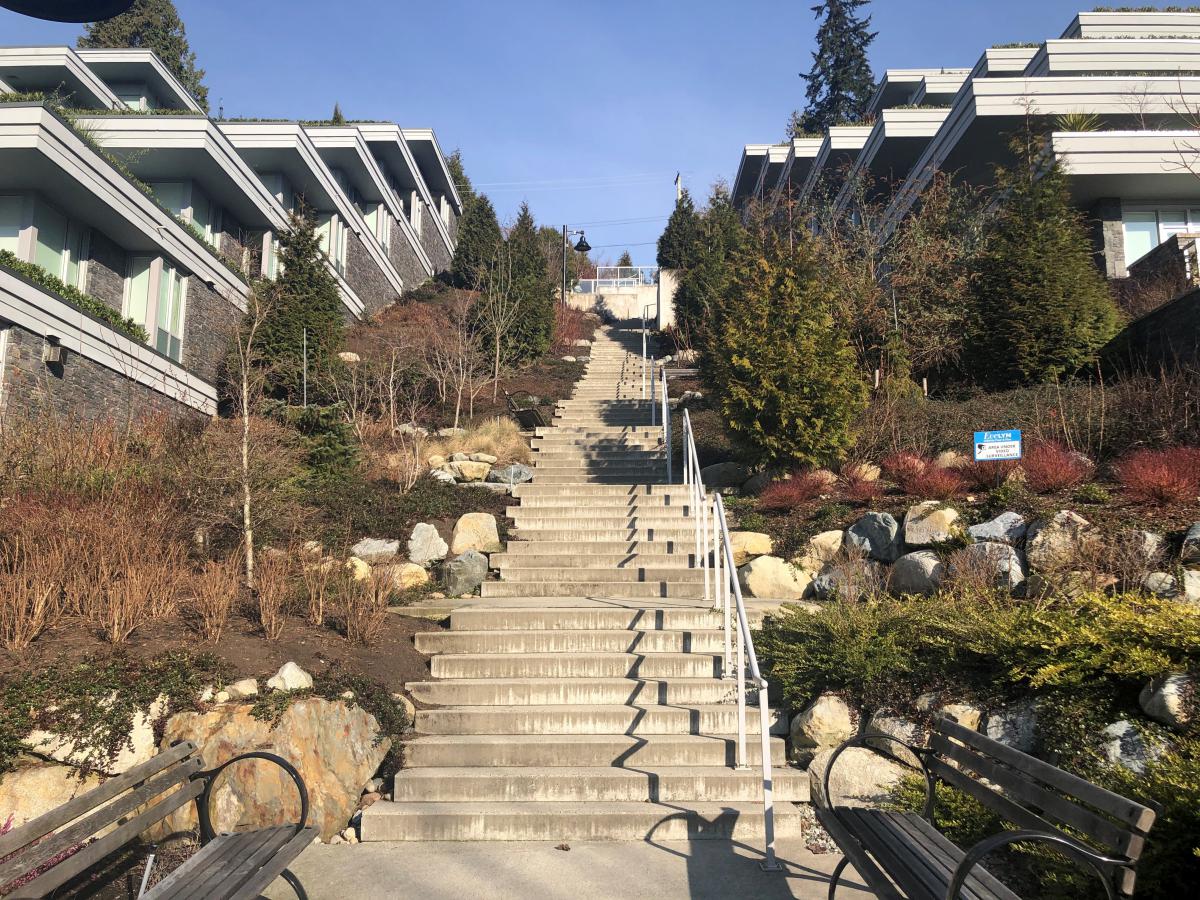 As part of the development, pedestrian connections were secured to link Keith Road to Arthur Erickson Place, and to Park Royal North. Village Walk is located to the west of the site, starting between Lots 1 and 2, and continues along the west side of Lot 5. Evelyn Walk is located near the center of the site, between Lots 2 and 3 and will join up between Lot 5 and Lot 6.
As of August 2021, the lower segment of Evelyn Walk, which features an accessible ramp and opportunities for rest and gathering, is open to the public. Some minor completion work will be occurring through the fall of 2021 on this segment of the Walk, and we ask for your patience during this time.