BC Energy Step Code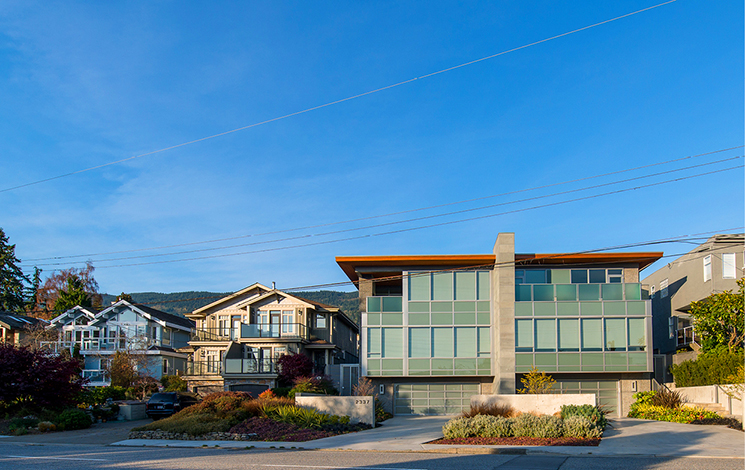 The BC Energy Step Code is a provincial standard that aims to create healthier, more energy-efficient and comfortable new buildings. It does so by establishing measurable performance-based energy-­efficiency requirements for new construction.
Since July 1, 2018, building permit applications for new construction have been required to show compliance with the BC Energy Step Code. Updated minimum requirements will be effective February 28, 2021. The following table outlines the District of West Vancouver's BC Energy Step Code requirements.
| | | |
| --- | --- | --- |
| Building Type | Current Requirements   | Effective February 28, 2021 |
| Part 9 residential (single family, townhouse and other Part 9 residential buildings)* | Step 3 of 5 | Step 5 or Step 3 with low carbon energy system** |
| Part 9 detached secondary suite* | Step 1 of 5 | Step 5 or Step 2 with low carbon energy system** |
| Part 3 residential (multi-family and apartment buildings) | Step 2 of 4 | Step 4 or Step 2 with low carbon energy system** |
| Part 3 business and personal service or mercantile (commercial, office and retail buildings) | Step 1 of 3 | Step 2 |
*Compliance with the Step Code will require the input of an Energy Advisor at various stages of the project, including design, construction and building completion. Building Permit applications must include a performance modelling report along with construction details that show how the proposed house will comply with the BC Energy Step Code and the low carbon energy system pathway, if applicable.
**Low Carbon Energy System means a mechanical system providing all thermal conditioning and all domestic hot water heating for a building primarily from low-carbon energy sources with the following characteristics:
(a) system seasonal average coefficient of performance greater than two;
(b) modelled Greenhouse Gas Intensity of no more than 3 kg CO2e/m2/yr; and
(c) any natural gas-fired peak demand heating equipment is appropriately sized to augment the primary low carbon system under peak demand conditions.
CleanBC Better Homes New Construction Program
The CleanBC Better Homes New Construction Program provides rebates of up to $15,000 for the construction of new, high-performance electric homes. It is open to builders constructing new Part 9 single-family detached homes, coach houses, duplexes, or townhomes. Builders can receive rebates for constructing homes with electric heat pumps or for building to upper step levels of the BC Energy Step Code using electric space and water heating equipment. Additional bonus rebates are available for homes with no fossil fuel usage and for working with an energy advisor.
For more information, please visit:
West Vancouver first to require new buildings to be low-carbon or net-zero energy ready
West Vancouver is the first municipality in Canada to require that new residential buildings be built using low-carbon energy systems or to be net-zero energy ready. Across the nation, these are the highest building construction standards in place for greenhouse gas (GHG) reduction. The requirements came into effect on February 28, 2021.
West Vancouver Council adopted these leading standards in 2020 as part of its climate emergency response, and in alignment with the District's Community Energy & Emissions Plan. Protecting the natural environment, reducing our impacts and adapting to climate change, including sea level rise, coastal erosion and increased wildfire risk, is one of Council's Strategic Goals.
A building with a low-carbon energy system reduces GHG emissions by 90% by using an electric heat pump for heating and cooling and an electric hot water heater. Net-zero energy ready, the highest step of the BC Energy Step Code, means that a building is 80% more energy-efficient and—with the addition of on-site renewable energy such as solar panels—produces as much clean energy as it consumes. These standards are now under consideration in communities across BC.