Snow Safety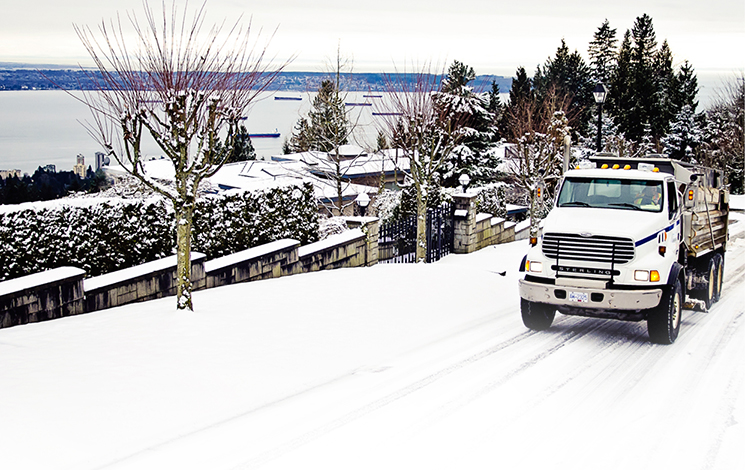 Winter is a challenging time of year, but by taking a few common sense steps, you can help maintain safer roads, sidewalks and prevent other winter-related risks.
Resident responsibilities
Prevent flooding: clear storm drains around your home
Make note of the storm drains around your property before it snows. Keep the drains clear by removing all snow and other debris to avoid flooding. 
Park off-street
Shovel your driveway and park off the street. You could receive a ticket and be towed if your vehicle blocks any of the following:
bus stops
driveways
fire hydrants
intersections
snow removal equipment
the normal flow of traffic
Keep Sidewalks Clear
Property owners must clear the sidewalks around your home or business of snow and ice. See the Traffic and Parking Bylaw for details.
Street clearing priorities and garbage & recycling collection
Snow removal
During a snow event, we will remove snow from streets on a priority basis.
Priority 1 routes: Bus routes, emergency routes, arterial roads (e.g. Marine Drive) and major collector roads (e.g. 15th Street) are the first to be cleared. During longer storms, primary roads—especially bus routes—are repeatedly plowed to ensure that everyone has a viable transportation alternative. 
Priority 2 routes: School routes and minor collector roads (e.g. Bellevue Avenue) are the second to be cleared.
Priority 3 routes: Local roads, cul-de-sacs, footpaths and footbridges will be dealt with after the weather disturbance has passed and/or Priority 1 and 2 routes are in a safe and stable condition. Please be patient!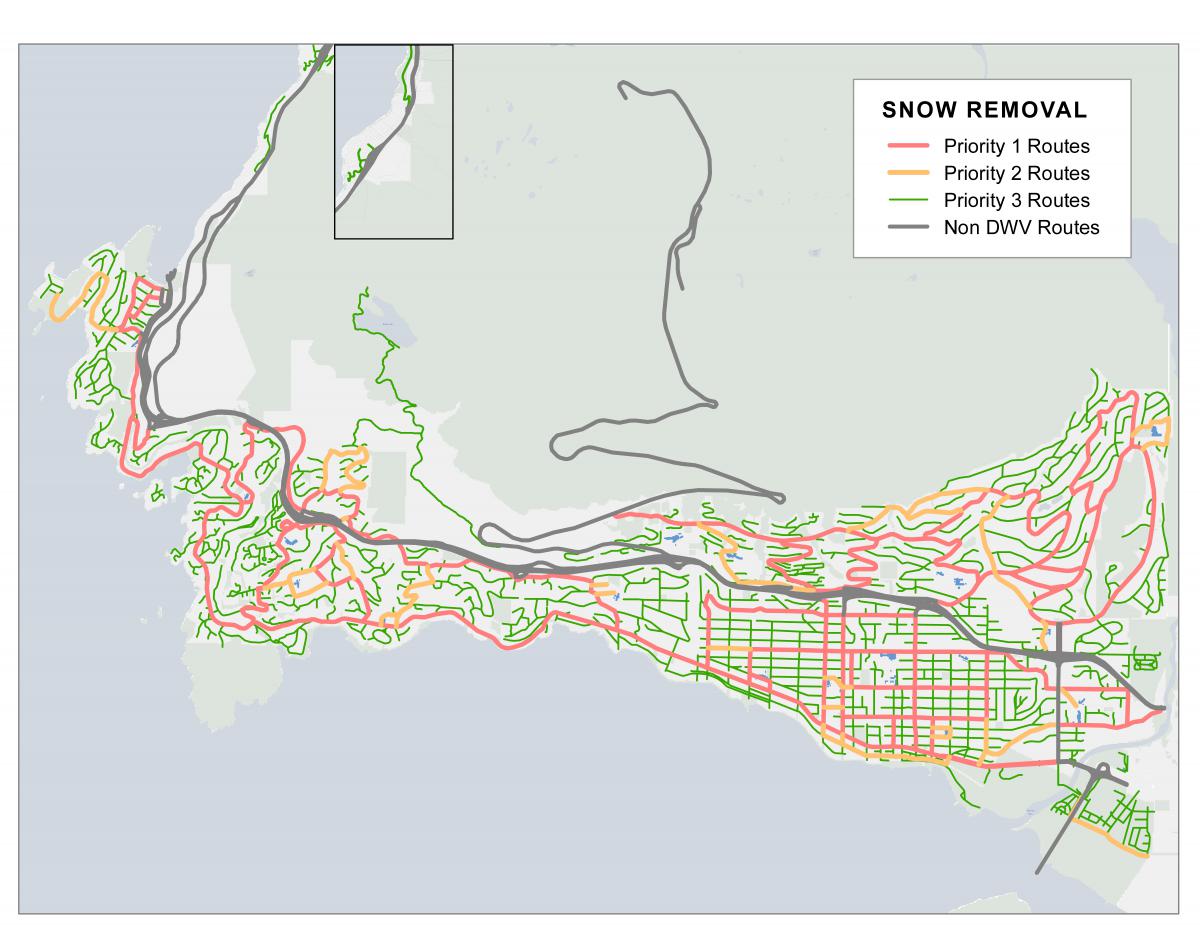 Garbage collection
Did we miss your pick-up? Your collection schedule may have to be suspended during periods of snow and ice.
Please securely store your material until your next scheduled collection day. Ensure it is securely stored overnight to avoid attracting wildlife.
The following tips will help you and your loved ones stay safe this snow season:
drive only if necessary. Public transit is a good alternative, but expect schedules to be affected by snow
monitor weather forecasts carefully and plan accordingly
stay on main roads and avoid side streets
drive slowly and be sure to brake early to avoid skidding
check on neighbours and family members who may need extra assistance
clear snow from fire hydrants around your home or business to help our firefighters during an emergency
By taking a few steps before winter arrives, you will be prepared for the challenges that can arise when it snows :
install quality snow tires on your vehicle
prepare an emergency kit for your home and vehicle, including candles, matches, blankets, a shovel, booster cables, water and some non-perishable food. Visit North Shore Emergency Management for more information.
stock up on food supplies and ensure your prescriptions are filled
keep a shovel and supply of salt to de-ice your driveway and sidewalk
More information
WestVanCollect App
Download WestVanCollect and get your schedule on your phone (with reminders too).
WestVanCollect is available on iPhone and Android phones.