Streetside recycling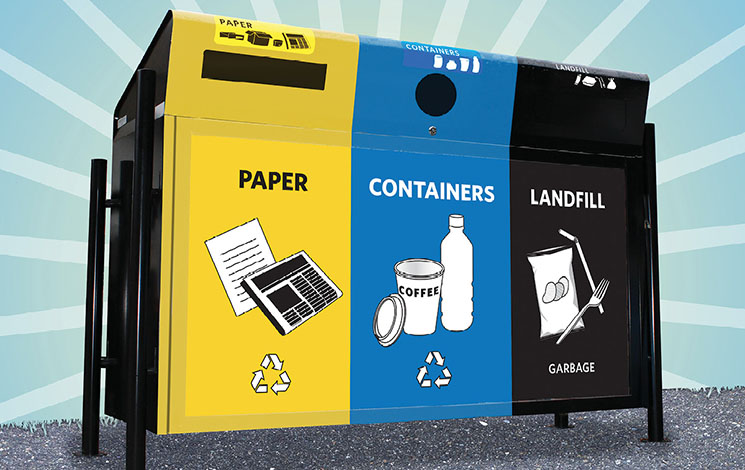 At home, West Vancouver residents divert more than 75 per cent of their waste from the landfill by recycling and composting. Increasing recycling opportunities outside the home is the next step to keep more garbage out of the landfill.
In 2017, streetside recycling bins were installed on sidewalks and at bus stops in Horseshoe Bay. This pilot project was effective in diverting 50 per cent of waste from the garbage to be recycled. Based on the success of this pilot project, the District has expanded streetside recycling to other commercial areas in West Vancouver.
Horseshoe Bay Village Recycling Pilot Project
2019 Streetside Recycling Expansion Project
In 2019, the District of West Vancouver introduced new three-stream recycling bins in the business areas of Dundarave and Ambleside, as well as at the transit stops at Park Royal.
The three-stream bins replaced existing garbage bins along the roadside and feature recycling options for paper and containers, as well as traditional garbage collection.
Next steps
Now that the new bins have been installed, they are being regularly serviced and maintained by the District's collection contractor—Growing City. The District is working closely with the contractor to monitor the project and ensure it is working effectively.
WE NEED YOUR HELP
Recycling effectively in public spaces can be challenging. Bins don't recycle, people do! When recycling is not sorted properly, it all ends up in the landfill.
To make it as easy as possible for residents to recycle correctly, the colour-coded bins match West Vancouver's residential recycling program.
Frequently Asked Questions
Why this project?
The new streetside recycling bins provide new opportunities for residents and visitors to recycle in West Vancouver business districts. Based on a recent study, around 40 per cent of materials from streetside bins in these areas can be recycled instead of thrown out as garbage.
Where are the new bins located?
New three-stream bins have replaced most of the District-owned garbage cans in the commercial areas between Taylor Way and 25th Street.
The total number of streetside bins provided by the District has not change. However, the new bins provide almost three times the capacity of the garbage-only bins, resulting in an overall increase in the amount of waste that can be collected.
What has happened to the garbage only bins that were replaced?
The single-stream Modena garbage bins purchased in 2014 will continue to be used. They have been cleaned and will be redeployed to various parks locations to replace old and worn out or broken metal or concrete garbage bins.
‍What is "contamination" in a recycling program?
‍Contamination occurs when items are incorrectly sorted and it is a key challenge of any recycling program, especially outdoor public locations such as parks and streetscapes. Research shows that people are less likely to sort correctly in public places than at home.
Check out our student videos that show the importance of recycling the right way and why it is good for our community.